CORPORATE
RETREATS
Two exceptional villas comprise the Villa Bayu Gita complex, accommodating a total of 18 adults, making it a great venue for large corporate gatherings.
Bayu Gita Beachfront, the larger of the two villas with six bedrooms, is also blessed with the bulk of the facilities. The living room is awash with sunlight, and with a cool breeze that is always likely thanks to the location of the villa, it makes a great location for cocktails and conversations after a long day of corporate meetings. Beyond a small hallway, in which additional chairs can be put for extra participants who want to hear a speaker in the living or dining room, is the dining area which consists of long glass windows and a dining table for 10. The dining area can be used as a boardroom for corporate meetings. A television can be brought into the room for presentations. The space is private and comfortable, and reminiscent of real boardrooms with ample space and light.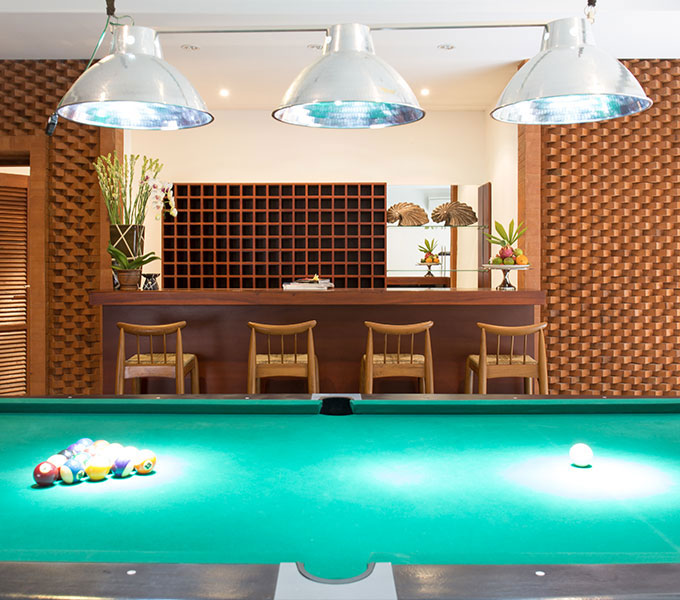 Your team members will benefit not just from rest and relaxation in the spacious bedrooms but from all the activities on offer and facilities that include a private gym, games room, billiards table, jacuzzi and luxuriously-appointed cinema. Outdoor activities can be arranged around the 18-metre swimming pool, with the island of Nusa Lembongan in the distance offering breathtaking vistas. For the ultimate corporate retreat, this is the place to be.
Meanwhile, Bayu Gita Residence, the estate's three-bedroom villa includes a spa and several living spaces for both serious meetings and informal breakout sessions.
To find out more, get in touch with our team at [email protected], and discuss how Villa Bayu Gita can fulfill your corporate event needs.